Image: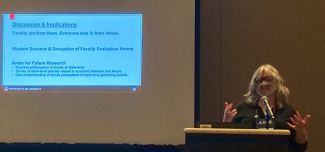 Mid-conference and McBee Institute folks are still going strong in Las Vegas! Check out these Friday programs.
9:15-10:00
Pearson Brown: First Year Momentum and Retention Outcomes for the University System of Georgia
Jihye Lee: The Effects of Tuition Discounting on Student Composition at Public Higher Education Institutions
10:15-11:30
Renni Turpin: Reflections on Faculty, Staff, and Administrator Use of Data
12:45-2:00
Sarah Burman and Mary Kate Steinbeck: Rituals of Exclusion: A Critical Disability Study of Postsecondary Commencement, Ritual, and Myth
Hee Jung Gong (PhD 2021): Exploring the Effects of Test-optional/Test-free Policies on Student Diversity
2:15-3:30
Denisa Gandara (PhD 2016): Advancing a Research Agenda for Understanding the Role of Administrative Burdens in Racial (In)Justice in Higher Education
Kelly Rosinger (PhD 2015): Inequality Beyond Standardized Tests: Understanding How Extracurricular Activities Vary Across Race, Socioeconomic Status, and High School Type
3:30-5:00
Renni Turpin: "Running on Empty": A Qualitative Study of Doctoral Students' Experiences of Graduate Stipends
Saturday Programs!
9:45-11:00
Alexa Arndt: College Student Government Elections and the Espousal OF Neoliberalism In Campaign and Platform Performance
Alex Cassell (MEd 2019): State-Level Governance Reforms in the New Millennium: Evidence from the Community College Completion Agenda
Ashley Clayton (Postdoc, 2016-2017): An Exploration of Counselors' College Knowledge in California Title I High Schools
Barrett Taylor (PhD 2012): Tenure Bans: An Exploratory Study of State Efforts to Curtail or Ban Faculty Tenure, 2012-2019
12:30-1:45
Candice Peters (MEd 2019): Lessons from Crises: Developing Intersectional Crisis Management Plans and Support Strategies for Graduate Students
Julianne O'Connell: Humanizing Diverse Career Trajectories (Session chair)
2:00-3:15
Sondra Barringer (Postdoc, 2013-2016): Academic Structure Shifts: A Comparative Case Study of Institutional Hierarchies and Categories
Renni Turpin: Humanizing Graduate Education During COVID-19 (Session chair)
Jarrett Warshaw (PhD 2016): Competing for Institutional Image? Interrogating Status and Access Across Institutional Types