Image: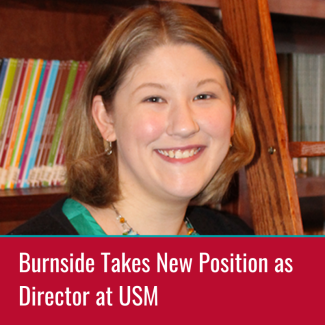 by Jewel Caruso
Ashley Burnside (EdD 2019) has been named the director of the center for student success at the University of Southern Mississippi starting July 1, 2022.
She will lead projects on the success and retention-based initiatives, student outreach, staff operations, and retention-based scholarship awarding. When asked what drew her into this new position at USM, Burnside said, "Having been at a small institution, I was eager to spread my wings, take on new challenges, and apply what I had learned in the [McBee Executive] EdD program. I was specifically drawn to USM because it is a research institution that would allow me to stretch, as well as being a university that prioritizes both student success and upward social mobility." 
Burnside shared that her experience at MIHE has "undoubtedly influenced" her decision to grow. "The support that I continue to receive from the faculty and my cohort is invaluable. Having the ability to get to know so many thought leaders opened my eyes to so many leadership styles and career trajectories. I like to think that I take a little bit from everyone that I engage with." She believes the best philosophy when tackling a new role such as this one is to "really listen and educate yourself about the new academic environment, as well as to be a sponge. All information can be helpful. It also helps to go in with goals and aspirations but to be thoughtful about the transition that others are experiencing too."
Burnside joins USM from her position as the director of tutoring and learning support at Winthrop University. She received her BA (political science) and MC (teaching) from Winthrop University. She also holds an MA in international studies from the University of South Carolina - Columbia.
We congratulate Burnside on this fantastic opportunity!