Image: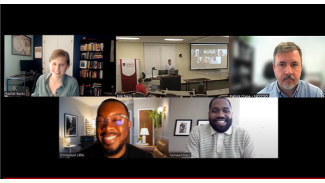 The McBee Institute welcomed four graduates back into the classroom virtually on July 21 to speak to students about their preparation for and experiences in noncampus roles.
The panel consisted of Rachel Burns, senior policy analyst at SHEEO; Patrick Crane, vice president of strategic initiatives in the North Carolina Community College System; Samaad Wes Key, program officer for postsecondary success at the Bill and Melinda Gates Foundation; and Emmanuel Little, the director of training, diversity, equity, and inclusion for Big Brothers, Big Sisters Atlanta.
The speakers complemented MIHE faculty and curriculum for solid research skills and methods. Even if this high-level research is not required in every position, the panelists recognized the value of being able to identify, value, and perform quality research.
Burns enjoys applying research to policy issues and answering questions that people in the field have. "Getting to use [the data] and apply it to issues is one of the most rewarding things," she said.
Little noted that he found the skills he gained in higher education and while earning his doctoral degree "can be transferred anywhere." He appreciated the preparation to operate successfully at the intersection of theory and practice.
Crane spoke to the importance of knowing the audience to distill and apply knowledge effectively for a variety of political contexts and organizational priorities. He added, "There is nothing more important than being able to write, clearly persuasively, and succinctly."
He also noted the power of the 1–2-page policy brief or executive summary. The panelists recommended that students practice writing and explaining their work in ways that are easily understood by anyone outside of the field. Keys urged students to think more entrepreneurially, particularly in terms of seeking external funding and partnerships.
Little advised students to take advantage of marketing and seek leadership opportunities to advance their impact. Keys summed up the session by telling students to "run their own race. Be human. And don't ignore DEI."
Watch the full video recording at: https://www.youtube.com/watch?v=76Stu3brUmY