Image: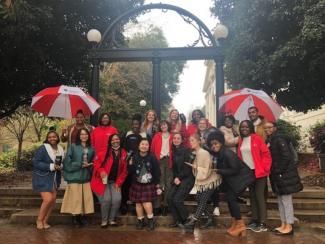 by Renni Turpin
Over the last semester, GCAC schools and advisers have acclimated to the "new normal," though complications of the pandemic linger. Invigorated by in-person classes, GCAC advisers are meeting with students face-to-face, finding students as they walk to class, and building a college-going culture throughout the school. To date, GCAC advisers have met with 86.91% of seniors, over 4,000 students. Comparing outcomes from virtual advising, Lauren Waldron, the adviser at Cairo High School, met with 90% of her senior class in the middle of May last year. This year, she reached 90% of the senior class by October.
The ability to hold in-person events and bring families into the school has led to gains in family engagement. Maynard Jackson High School, Rockdale County High School, and Benjamin E. Mays High School have especially high rates of family engagement through a combination of ongoing outreach and specialized events. "Family Engagement is important because it establishes trust and strong relationships between parents, students, and advisers. Students always find their way into the office after their parent mentions how they talked with their college adviser," said Chaseteney Richardson, adviser at Benjamin E. Mays.
The depth to which advisers have engaged with students and families has increased the number of students completing key college entrance checkpoints. Compared to last year, registration for college entrance exams has increased by over 10%. Leading the way are advisers at Maynard Jackson with 91.87%, D.M. Therrell with 100%, and Drew Charter school with 77% of seniors having registered for or taken a standardized entrance exam.
Across GCAC high schools, college applications are pouring in. 77.78% of seniors at BEST Academy, 55.96% at Benjamin E. Mays, and 56.44% at Midtown High School have submitted a college application. With most college application deadlines still upcoming, GCAC advisers are excited to see their student's hard work pay off with applications and acceptances in the spring semester.