Image: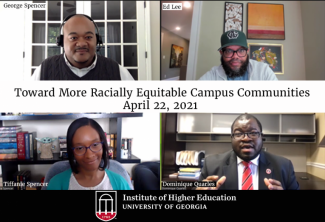 Dr. George Spencer moderated a conversation with three IHE graduates and diversity, equity, and inclusion (DEI) leaders who discussed how individuals and institutions can move towards racial equity in all aspects of higher education.
The panelists were Dr. Ed Lee III of Emory University, Dr. Dominique Quarles of the University of Georgia, and Dr. Tiffanie Spencer of the University of Vermont.
The speakers shared perspectives on a variety of topics, including their experiences on campus, what solutions are necessary for true, transformative change, trends in DEI work on campuses, and what activities are ineffective.
They also offered practical guidance and recommendations of necessary steps to raise awareness and engage everyone in constructive DEI work on campuses.
IHE's Working Group on Diversity & Inclusion coordinated the panel as part of its Critical Perspectives on Race series.
View the session at: https://www.youtube.com/watch?v=yCL56zrjU1w