Image: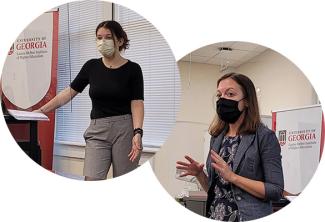 Brook Thompson and Brionna Johnson led an information session about the Georgia College Advising Corps to members of the McBee Institute community.
GCAC began at the Institute in 2009 and works in underserved high schools throughout Georgia to increase the number of low-income, first-generation, and underrepresented students who attend and complete higher education. The program currently serves seventeen high schools in Georgia and will add another location in 2022. Keys to the success are the commitment and creativity of the near-peer advisers, the partnerships with AmeriCorps, College Advising Corps, and Achieve Atlanta; and mindful goal-orientation and data collection of the whole staff.
Thompson encouraged faculty and students to support GCAC by being an advocate, sharing research, and mentoring the advisers.
Amy Stich and George Spencer presented an overview of their recent grant proposal into whether dual enrollment opportunities lead to more racial diversity in postsecondary STEM programs. If funded, the grant will support two additional GCAC advisers to participate in data collection and evaluation. This collaboration is a great model of how our outreach programs can enrich faculty research.
See more information about GCAC at: https://ihe.uga.edu/georgia-college-advising-corps