Image: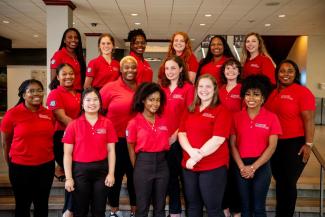 As summer transitions to autumn, the excitement of going back to school is palpable for students, families, school staff, and the advisers of the Georgia College Advising Corps (GCAC). On August 2nd, GCAC advisers entered their school sites, ready to assist students and families at seventeen high schools across Georgia with navigating post-secondary applications.
The advisers are fresh off an intensive, month-long training, focusing on all aspects of the college application process, the financial aid process, the higher education landscape, and best practices for supporting students from all backgrounds. Advisers were able to hear from experts in the field, including leaders from community organizations, UGA staff, and professors from the Institute of Higher Education. GCAC is grateful to all the presenters for their time and expertise.
With this training, the advisers are confident in their ability to increase the number of low-income, first-generation, and underrepresented students who will access and succeed in college. GCAC advisers are highly trained, highly qualified recent college graduates who are close in age and background to the students they serve. This year, 70.6% of the advisers identify as first-generation college students, 76.5% were Pell Grant eligible, 70.6% are people of color, and 82.4% received the HOPE scholarship. This is integral as GCAC advisers offer not only resources and college knowledge, but also encouragement and moral support.  
 
GCAC is thrilled to announce that, in January, it will expand to three new school sites: Alcovy High School, Eastside High School, and Newton High School. 
2021-2022 GCAC Partner Schools:
** Denotes a new partnership beginning January 2022
Alcovy High School**
Benjamin E. Mays High School
B.E.S.T. Academy High School
Cairo High School
Cedar Shoals High School
Clarke Central High School
Coretta Scott King Young Women's Leadership Academy High School
Daniel McLaughlin Therrell High School
Drew Charter School
Eastside High School**
Heritage High School
Maynard Jackson High School
McDonough High School
Midtown High School
Newton High School**
North Atlanta High School
Rockdale County High School
Salem High School
Social Circle High School
Stockbridge High School