Image: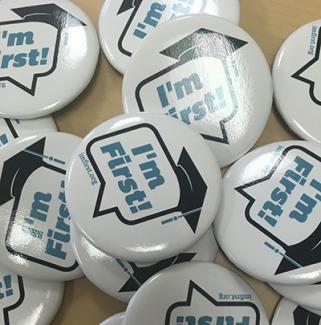 by Brionna Johnson
November 8th marked the fifth annual First-Generation College Celebration, a nationally recognized event created to acknowledge the accomplishments of first-generation college students and graduates. In observance, a number of the Georgia College Advising Corps advisers planned events to engage the students, faculty, and staff at their school sites in the celebration and spread positive messages to encourage first-generation students as they apply to college this fall.
As a first-generation college graduate herself, adviser Tiana Knight says she is "able to connect with her students on a deeper level" as a result of this shared identity. "Celebrations like this are necessary because they help students realize that they have a community of support behind them no matter where they end up," said Knight. At her two school sites this year, B.E.S.T. Academy and Coretta Scott King Young Women's Leadership Academy, Ms. Knight has planned a fun initiative to celebrate first-generation students who complete college-related tasks early in the school year. First-generation students who apply to one or more colleges will receive an "I'm First!" button, while those who apply to three or more colleges and complete their Free Application for Federal Student Aid (FAFSA) will be entered to win an "I'm First!" t-shirt. 
At Daniel McLaughlin Therrell High School in Atlanta, advisers Isis Owusu and Chris Robinson hosted a virtual First-Generation Family Night to educate families in their school community of the various post-secondary pathways available to students after high school graduation. The advisers began the event by sharing an overview of relevant higher education jargon to ensure familiarity with the terminology students and families may encounter while navigating the college application process. They also provided an overview of specific deadlines to reference along with a reminder of the school-based supports available if additional guidance is needed. "First-generation family night was a great way to ensure that all of our students have the tools and information they need to be successful after graduation," said Owusu, "Regardless of what path they choose, we want all of our students and families to know their options."
In working toward GCAC's mission of increasing the number of underrepresented students who attend and complete higher education, events like the first-generation celebration allow advisers to focus their efforts and take time to celebrate their students' accomplishments. Throughout the remainder of November, advisers will celebrate Georgia's Apply to College Month with more events and initiatives to support their students.