Image: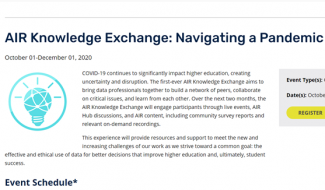 Karen Webber and co-editor Henry Zheng led a recent AIR Knowledge Exchange Event to share information from their book, Big Data on Campus: Data Analytics and Decision Making in Higher Education.
The panel presentation aired on Tuesday, November 24 from 3-4pm. Christine Keller, executive director & CEO of the Association for Institutional Research moderated the event.
Check out more opportunities to view Knowledge Exchange events at:
https://www.airweb.org/collaborate-learn/knowledge-exchange.