Image: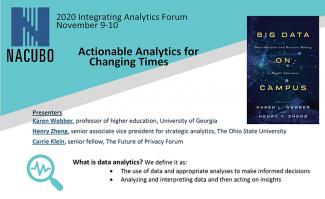 Karen Webber is part of the opening panel session on November 9 for NACUBO's virtual Integrated Analytics Planning Conference.
The session is titled Actionable Analytics for Changing Times and includes additional panel members Henry Zheng, and Carrie Klein.
The panelists will discuss ways that higher education leaders can leverage data to meet their institutions' goals in a constantly evolving environment charged by budget cuts and pandemic challenges. Panelists emphasize the importance of data-informed decision making and of allowing institutional missions and priorities guide the progress.
View NACUBO conference events https://www.nacubo.org/Events/2020/NACUBO-2020-Virtual-Annual-Meeting