Image: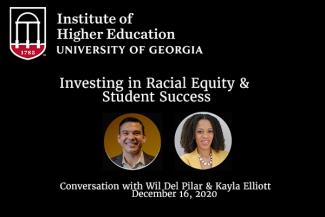 On Wednesday, December 16, Wil Del Pilar and Kayla Elliott, leading higher education policy experts at The Education Trust, shared recent research on race conscious policies and objectives-based funding (OBF) with the IHE community.
Dr. Del Pilar, vice president of higher education policy and practice, drew from findings in Hard Truths, published earlier this year. This report, part of the State of Higher Education Equity series, addresses questions like: How do you respond to opponents who prefer not to focus on race?, Why can't we focus on income?, and How can we advance race-conscious policies in higher education and states?
Dr. Elliott focused on data from an upcoming report on OBF. She included practical guidance for policymakers on how to design OBF programs that lead to real progress, rather than reinforcing the same inequitable practices.
More than 50 students, alumni, GCAC advisers, and faculty and staff joined the event via Zoom.
Charles Sanchez, PhD candidate, welcomed the participants, and the session was moderated by Dr. Erik Ness.
The IHE Working Group on Diversity, Equity & Inclusion coordinated the event as part of the Institute's Critical Perspectives on Race series with additional support from the Higher Education Student Society.