Image: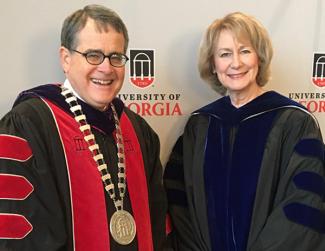 IHE's director, Libby V. Morris, delivered the fall graduate commencement address on Friday, December 13 at 2:30 in the Stegeman Coliseum. 
"I hope your pathway forward is filled with a sense of gratitude, valued colleagues, meaningful opportunities and responsible action," Morris said. "By following your passion, you will write your life's best story."
Serving as vice provost for academic affairs from 2010 to 2013, Morris established the Office of Online Learning and the UGA Arts Council, led the effort to merge the Skidaway Institute of Oceanography with the university, and increased the number of tenured and tenure-track faculty on campus. She has twice served as interim senior vice president for academic affairs and provost, in 2013-2014 and 2018-2019, playing a major role in launching the Science Learning Center and the Interdisciplinary STEM research complex, among other key initiatives. 
"Dr. Morris has provided outstanding leadership during times of transition at the university, helping our institution maintain its upward trajectory while being a source of steady support," said President Morehead. "She also has achieved a remarkable record of scholarship in addition to her significant administrative responsibilities." 
The Institute was represented well with 17 of its own graduates from summer and fall participating in the commencement service. Excerpts for this article are from Campus News: https://news.uga.edu/fall-2019-commencement-recap/
Athens Banner-Herald: https://www.onlineathens.com/news/20191213/new-graduates-add-to-ugas-growing-base-of-support