Image: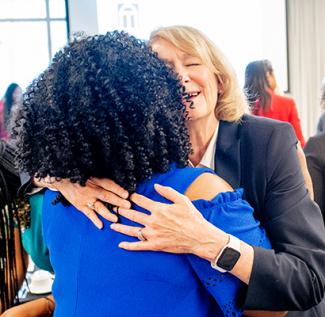 The Georgia College Advising Corps celebrated its tenth anniversary with a special luncheon and networking activities for current and former advisers, friends and staff of the program on May 29. The event kicked off with a welcome from interim provost and GCAC founder, Libby Morris. Dr. Morris closed her remarks by thanking the advisers and complimenting their efforts, "I am proud that our program has reached so many young people, opening for them doors of educational opportunity."
A recent high-school graduate, Brenda Ascencio, spoke next. She shared her first-hand testimony of the important role of the adviser in her school. Jessica Robinson, director of GCAC, shared highlights from the decade of service and recognized the first four advisers who served 2009-2010, Truitt Broome, Ryna Carty, Mamie Harper, and Ashley Homes.
Robinson added, "We have data points and statistics that are exciting and validate our work, but sometimes those numbers take the focus away from the people at the core of what we do. This year we have two people applying to serve as college advisers who were inspired because they were helped on their own paths to college by GCAC advisers. The impact that our advisers have on the students that they inspire and support has ripple effects on not only on those students' professional lives, but also on their families and their communities."
The program began as a partnership between the IHE, the Watson-Brown Foundation and the national College Advising Corps. Launched with only four advisers, the GCAC now boasts 21 advisers in 16 high schools. Since 2009, 73 college advisers have served with GCAC, and those advisers have reached over 28,500 high school seniors.  
See additional coverage by UGA Today (May 16, 2019)