Image: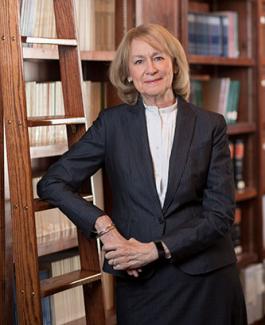 As I return after a year serving in the role of senior vice president for academic affairs and provost, I am struck by the Institute's deep engagement in instruction, research, and public service. Our faculty not only research issues of policy and administration, they also share their expertise with multiple constituents locally and nationally, while working closely with our graduate students to prepare the next generation of leaders.
The highlights in the pages of this 2019 IHE Report match well with our mission to be influential scholars addressing important questions and preparing our students for their roles in informing decisions, implementing reforms, directing change, and generally acting to improve higher education.
We mentor our students and expect them to add their voices to the professional conversations as researchers and administrators. Our graduates are presidents, state-wide and consortium higher education administrators, consultants, educators, and campus change-makers.

Our master's and doctoral students meet and engage with leaders of major intermediary and advocacy groups, like SHEEO, IHEP, AAC&U, and NACUBO, the leaders of which serve as IHE Fellows.
Our Georgia College Advising Corps (GCAC) places more than 20 advisers in Georgia high schools annually. These near-peer advisers change the trajectory of students' lives by guiding them through the college admission and financial aid processes.
Our Governor's Teaching Fellows (GTF) program engages more than 30 faculty annually from colleges across Georgia for workshops on issues of teaching and learning and the challenges of retention and progression to graduation. Together GTF and GCAC support the University System's Complete College Georgia initiative.
Our faculty and alumni pursue collaborations and research grants lead to working papers and policy recommendations from the Spencer Foundation, National Foundation of Science, Bill & Melinda Gates Foundation, William T. Grant Foundation, Horatio Alger Association, TIAA Institute, and others. They lend expertise to advocacy groups and educational organizations to help them chart their courses.
We host lectures and small group discussions with leaders, like University of Connecticut President Susan Herbst, to expand our perspectives and introduce us to new models. We invite scholars and practitioners to spark synergy around shared research interests and to develop big picture answers from all the pieces.
Our faculty publish their pre-publication research online to promote our work to larger audience without access limitations or paywalls.
We collaborate internationally and exchange expertise with colleagues in Croatia and Austria to help shape higher education programs in southeastern Europe and beyond.
I am enthusiastic about where we will go this year as we welcome Assistant Professor George Spencer from the Harvard Graduate School of Education and Post-doctoral scholar Maurice Shirley from New York University to our team.
Finally, thank you for being a friend of the Institute and for sharing your ideas, time, and donations. We depend on you. I hope you enjoy reading about all the energetic activity and see the many ways we work to fulfill our mission "to improve postsecondary education policy and practice in the state, region, and beyond."
LIBBY V. MORRIS  |  Director, Institute of Higher Education