BEGINNING IN 2009 with four advisers, the Georgia College Advising Corps (GCAC)—an outreach program of the IHE—has grown to include twenty-one advisers embedded in sixteen high schools. The advisers assist students through the complex college admissions process to increase the number of matriculants from low-income, first-generation, or other historically underrepresented backgrounds.
GCAC advisers are outstanding recent college graduates who are close in age and background to the students they serve. They offer high school seniors, not only resources and information about college, but also moral support and inspiration. "Finding and applying to college can seem like a daunting and lonely process," said Kayla Pollack, a senior at Clarke Central High School who was served by GCAC adviser Alyssa Yuhouse. "Having one person be on your team can change everything."
In an effort to learn from success stories like Pollack's, GCAC is excited to partner with current and former IHE postdoctoral fellows Meredith Billings and Ashley Clayton to research and analyze GCAC's specific impact on high school students. "We are proud of our program's results, but we seek continued improvement and welcome research that will help us achieve our goals and reduce inequities in college access," explains GCAC director Jessica Robinson. In their mixed methods study, Billings and Clayton will explore advising strategies used by GCAC college advisers and their roles in the students' application processes. Clayton, who has a background working in the college access field, and Billings, whose prior research has focused on financial barriers to college, hope that their findings will inform policy and practice around college advising in high school. Billings says, "I value this research project because it evaluates a program that strives to make a difference in the lives of young people and tackles a pressing problem in our society—educational inequality—that needs more attention, outreach, and research to solve."
GCAC PROGRAM DIRECTOR JESSICA ROBINSON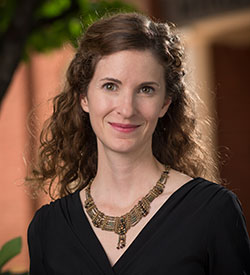 JESSICA ROBINSON became the director of the Georgia College Advising Corps (GCAC) in July. She had served as the program coordinator of GCAC since May 2017, and over the past year, Jessica was instrumental in strengthening program recruitment, logistics, and communications. In her new role as director, Jessica oversees GCAC program development and evaluation, supervises the near-peer advisers, and coordinates with the participating high schools and other GCAC partners. She also assumes responsibility for grant writing, program promotion, fundraising and budget management. Jessica has over a decade of experience in the field of education, including work as an education consultant, a high school teacher, and a youth services librarian. She earned a Bachelor in Arts in Comparative Literature from the University of North Carolina at Chapel Hill, a Master of Arts in Teaching from the University of North Carolina at Wilmington, and a Master of Library and Information Studies from the University of North Carolina at Greensboro.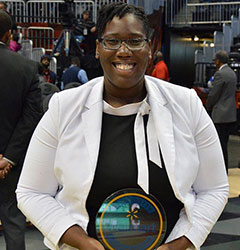 GCAC 2018-2019 PARTNER HIGH SCHOOLS
Benjamin Mays High School
B.E.S.T. Academy High School
Cedar Shoals High School
Clarke Central High School
Coretta Scott King Young Women's
Leadership Academy High School
Drew Charter School
Grady High School
Heritage High School
Maynard Jackson High School
Meadowcreek High School
North Atlanta High School
Rockdale County High School
Salem High School
Social Circle High School
Therrell High School
Westside High School