Three doctoral students in the Institute of Higher Education were honored at an awards luncheon hosted by IHE on Dec. 12.
Kristin Linthicum and Tiffanie Spencer were the inaugural recipients of awards honoring the memories of IHE faculty members Thomas G. Dyer and J. Douglas Toma. Rachel Burns was named the 11th recipient of the Zell and Shirley Miller Fellowship, established in 2005 to honor the former Georgia governor and his wife.
Dyer, professor of higher education and history, was a longtime UGA administrator who served as IHE director at the time of his retirement in 2006. His many honors included being named University Professor in 1998 and posthumously receiving the inaugural President's Medal from the UGA Alumni Association in 2013.
Toma, professor of higher education and a highly regarded scholar, developed IHE's executive doctoral program in higher education management, which was launched in 2010.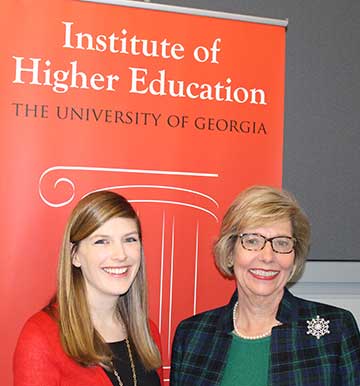 "Tom Dyer and Doug Toma made extraordinary contributions to the Institute of Higher Education and their impact continues to be felt through the awards that bear their names," said IHE Director Libby V. Morris. "We are very grateful to those who have contributed to these scholarship funds, as well as the Miller Fellowship, to provide financial support to the next generation of higher education leaders."
The Dyer Outstanding Dissertation Research Award was awarded to Linthicum for "rigorous original scholarship in the field of higher education." Linthicum is a graduate assistant in the Office of the President at UGA. Her research focuses on how institutions respond to state policy decisions and the outcomes of institutions' responses. Her dissertation will examine public research universities' responses to declining state funding and institutions' subsequent relationships with state policymakers. After her expected May 2018 graduation, Linthicum aims to work in university administration. (l-r: Linthicum with Anna Dyer).
"The Institute of Higher Education is a remarkable place that offers an engaging environment for students to learn and grow," said Linthicum. "Throughout my time at IHE, I have consistently learned from fellow students, faculty members and experts who have visited the Institute.  I am so grateful for the unparalleled opportunities that are provided by IHE."
Linthicum earned a B.A. in journalism and political science from UGA and an M.Ed. in higher education from the University of Virginia. Before earning her master's degree, she worked in development and alumni relations at Virginia Commonwealth University's School of Medicine. At the University of Virginia she worked as a graduate assistant in the Office of Summer and Special Academic Programs.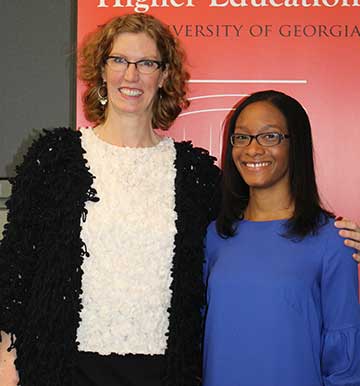 The J. Douglas Toma Excellence in Scholarship and Service Award was presented to Spencer for her academic achievements and institutional engagement. Spencer has worked with the Georgia College Advising Corps since beginning her doctoral studies in August 2013. GCAC, a public service and outreach effort of IHE, places college advisers in underserved high schools throughout the state of Georgia. Her involvement has included developing summer training prior to the advisers entering their schools, monitoring and analyzing the advisers' data collection, and providing support to them in their daily responsibilities. Her GCAC duties have allowed her to expand her research, which focuses on college access. After graduation in May 2017, she hopes to find a position that will allow her to continue work in this area.
"My time at IHE has been invaluable," said Spencer. "My coursework and research experiences have been further enhanced through the practical experience and mentorship I have received in my service with the Georgia College Advising Corps. I feel confident in knowing that after I finish my degree, the Institute has prepared me to continue serving in the field of higher education." (l-r: Linda Bachman with Spencer)
Spencer earned a B.A. from the University of Notre Dame, and an M.Ed. in higher education administration with a concentration in student affairs from the University of Pittsburgh. While earning her master's degree, she served as an assistant residence hall director and as a mentor to underrepresented undergraduate students as part of a retention and empowerment program. Prior to beginning doctoral work at IHE, she spent four years at Baylor University as a residence hall director in a first-year student Living Learning Program community.
The Miller Fellowship was awarded to Burns as a "doctoral student of high promise." The fellowship was established to support doctoral study of significant issues in the field of higher education. Burns has served as a research assistant with UGA's Latin American and Caribbean Studies Institute, as well as with IHE faculty members James Hearn and Karen Webber on a variety of grant-funded and independent study projects. She expects to graduate in May 2018.
Her research interests include access for first-generation, low-income and underrepresented minority students, particularly undocumented immigrant and Native American populations. Her dissertation will focus on the social, political and economic characteristics that contribute to state policies regulating the affordability and access of postsecondary education for undocumented immigrant students.
Burns also has done research on the changing faculty workforce, international education, and graduate student debt and has presented on these and other topics at national conferences. (l-r: Burns with IHE faculty member Karen Webber)
"I have been extremely fortunate in my time at the Institute to work with faculty and colleagues on a wide array of topics and projects," said Burns. "These endeavors have exposed me to new research areas and methodological approaches that have expanded my horizons and enriched my experience as a doctoral student."
Prior to enrolling in the Ph.D. program at IHE, Burns worked as a grants specialist in UGA's Sponsored Programs Administration and as a grants coordinator in the genetics department. She earned a B.A. from the University of Virginia and an M.P.A. from UGA. During her master's studies, she worked as a teaching assistant in the political science department and as a graduate research assistant with the Office of Economic Development.