Image: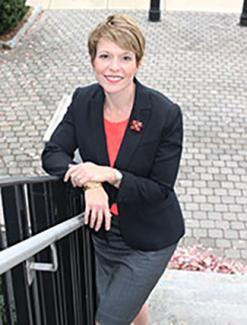 Leslie S. Gordon, who has served as associate director of assessment in UGA's Office of Academic Planning since 2011, has been named associate director of the Executive Doctoral Program in Higher Education Management.
The appointment is effective Dec. 1, 2015. She succeeds Elisabeth Hughes, who is retiring after several years in that position.
Prior to serving as associate director of assessment, Gordon spent two years as assistant to the vice president for instruction at UGA. Among other duties in that role, she was a member of the central team that developed and implemented UGA's First-Year Odyssey Seminar Program and was co-principle investigator of the National Survey of Student Engagement and Beginning College Survey of Student Engagement. She also has served as an adjunct faculty member in the department of Romance languages since 2009, where she teaches courses in Spanish linguistics.
Gordon is a UGA Honors graduate, received a master's degree from the University of Michigan, and earned a doctorate from Georgetown University.
"We are pleased to welcome Leslie to her new role," said IHE Director Libby Morris. "Her strong academic background, administrative leadership experience and campus connections will be invaluable in sustaining and enhancing the educational experience for our current and future students."
The Ed.D. program is directed by Charles B. Knapp, president emeritus of the University of Georgia. Aimed at mid-level professionals, the program emphasizes management, leadership training, and issues in public policy in higher education. The cohort focuses on international education during a study abroad experience each summer. The next cohort of Ed.D. students will begin the program in January 2016.