Image: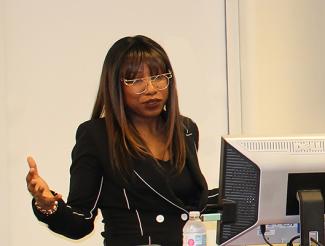 Dr. Constance Iloh presented her research on the reality of college selection and access, highlighting the problems with assuming that college is accessible and that student enrollment is a choice on Wednesday, April 17.
Her qualitative research methods tracked the narratives of students "hidden in plain sight." Through these interviews she determined that the theoretical framework posited by Hossler and Gallagher (1987) should be updated and expanded to more accurately provide a model of how a new generation of students make college-going decisions. The Iloh Model incorporates an environment that involves more for-profit and community college options, more students with adult responsibilities outside of the classroom, and more students engaging with higher education in an iterative progression. For many students, the decision to pursue a degree is not a one-time event but a trajectory that conforms to other life opportunities and responsibilities.
Drawing on her background as an anthropologist, she developed a model that incorporates the ecosystem surrounding the students and the interplay of various factors within the ecosystem. Rather than a linear progression, Iloh designed her model as a circle, which can be started from any of the three points: information, opportunity, and time. She highlights the importance of access to information, the quality of that information and the source. Time, she considers in three ways: micro (specific interactions), meso ( immediate environment), and macro (larger societal contexts and movements). Opportunity, both perceived and real encompasses the supporting and restricting factors of technology, location, policies, and community.